A Better Choice Auto Insurance Agency,
Who We are is What You Want
What we are not — however — is a stuffy, corporate entity.
A Better Choice Auto Insurance will not push, pull, or prod you with impatience. There's no cavalier attitude with your business or your concerns. A Better Choice Auto Insurance won't let you worry or set you on edge by being slow to respond. When you need an insurance agent, you'll have someone there, promptly to help you.
The concern for customers, is what makes A Better Choice Auto Insurance different and better than the big insurance names. The focus is on being, a different and better Colorado Springs auto insurance option.
Our Partners
A Better Choice Auto Insurance writes policies for top-rated, and trusted insurance companies.






Do You Need An Auto Insurance Quote Fast?
There are many coverages, options, and limits involved in acquiring an accurate insurance quote. We at A Better Choice highly recommend all consumers use the assistance of an experienced insurance agent to facilitate this involved process.
We would be more than happy to assist you with a quick and accurate quote. Simply call us at 719-667-1301, most quotes take less than 15 minutes to complete.
After hours & weekends, Quote Yourself
However, if it is after hours and you know the options, coverages,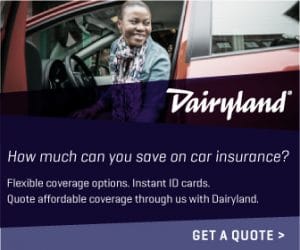 and limits that you need, we have a link to one of our partner companies' websites for LIABILITY ONLY quotes.
Feel free to quote yourself using Dairylands' quoting program link here in our website. Again, this tool is best for liability quotes.
Dairyland is a great (A+) rated company and only one of the many highly rated insurance companies we partner with here at A Better Choice. Some companies are more suited for liability coverage and some are more for "full coverage" or physical damage coverage. An experienced insurance agent will be very helpful in recommending the right company for your specific insurance needs. Please call us now and we will show you why we are A Better Choice for your insurance needs.
What Our Customers Say About Us
WOW what a trio that works the office!! Have dealt with them from almost day 1 and will not deal with anybody else. They are there for you and will find you the best quote. They definitely have my 5 Star rating.
Amazing place, amazing staff... We've used A Better Choice for longer than I can remember and they've been nothing but wonderful to us.
Thanks guys for taking such good care of us and providing us with the best and most affordable coverage. Our kids have even gone on to use them, I can't say enough.
I've been using A Better Choice for quite a while now and I am very impressed with their service and they have always gone out of their way to give my the best price without leaving me vulnerable. I would highly recommend them for your insurance.
First things first! A better choice has THE BEST customer service . They are so kind and respectful to EVERYONE that walks in that door. You could walk in mad at the world and come out with the hugest smile on your face all because the great people they are -God bless️ 
Discounts & Car Insurance Savings
Keeping customers abreast of opportunities that might mean additional savings are a top priority.
Beyond searching for new opportunities to save, there are initial savings offers that can make a considerable difference in your monthly costs. For one, you get all the help you need to get started. There are policies available with low down payments, as well as both credit and non-credit policies. To remain flexible for any clients, there are policies based on 1, 6, and 12-month terms. Our desire is to provide affordable insurance to protect you and your family, not just cheap car insurance Colorado Springs.
You can feel confident that there is a policy that best works for your circumstances when searching for auto insurance near me!
Agents at
A Better Choice Auto Insurance
All the auto insurance agents at A Better Choice Auto Insurance are licensed, knowledgeable and have extensive experience. Equally important, their highest professional priority is to make certain that you, and your family, are covered with the best possible policy.
All agents live locally, so they understand your needs concerning driving and riding in Colorado.