An SR-22 is simply an agreement between the state and the insurance company that accepted the policy. The SR-22 is actually filed with the state by the insurance company, and it binds the insurance company to notify the state if the coverage on the policy ever lapses.If the state receives a lapse notification, they will send the insured a letter threatening revocation of their license upon non compliance. This way the state can monitor certain licensees and enforce the mandatory insurance laws.
We have been assisting clients with this issue for almost twenty years. We are very familiar with the in's and out's of dealing with the department of revenue, and all aspects of the reinstatement procedure. With our years of experience and expertise, we can alleviate vast amounts of stress for SR-22 clients.
What is the purpose of an SR-22? What does it do?
In my twenty years of insurance experience, one of the leading causes for confusion among my clients is the dreaded SR-22 filing. This filing is by no means a good thing, but it's nowhere near as bad as you may have heard. Today I will simplify - and hopefully shed some light - on the blurry, dark cloud that is an "SR-22 filing."
Many people at the DMV, and even some at the Department of Revenue, do not have a clear understanding of what an SR-22 filing is or how it works. This is the main reason why it can be so difficult to understand. I'm going to get straight to the point and help you understand the SR-22 filing process.
Let me start by telling you what SR-22 is not. It's NOT insurance. The SR-22 is simply an attachment to an insurance policy that is filed with the state and is completely different and separate than the insurance itself. The SR-22 is only present to inform the state whether the policy is active or not. That is the entire purpose of the SR-22; it simply gives the state access to your policy status. Once the SR-22 is filed on the auto insurance policy, the state has access to that information and receives notification if the policy coverage stops for any reason. That is the point of the SR-22 filing. The state wants to be able to verify that the auto insurance policy is always active.
So, what is it?
SR-22 is a filing attached to an auto insurance policy.
What does it do?
SR-22 provides access regarding the "active" or "inactive" status of an auto insurance policy to the state's Department of Revenue.
Yes - it's really that simple, but let's go over some frequently asked questions....
---
SR-22 FAQ's
Why would one need an SR-22?
The SR-22 requirement is implemented by the state, at the Department of Revenue, for various reasons. Tickets from "DUI's" and "no insurance" are the most common reasons one would need an SR-22. However, there are other infractions that can get one into "SR-22 land" as well. For instance, being behind on child support payments. That said, most circumstances are due to questionable vehicle operation. If the state requires it, you must file an SR-22 to keep your driver's license!
If I am required to file an SR-22, will it be on my insurance forever?
Not at all. The Department of Revenue has all the power in this area, but the longest SR-22 period I've seen is three years. Some clients are required to file for only one year and others three years. It's totally up to them (the Department of Revenue), but three years is the longest duration I've seen.
Does an SR-22 cost more?
Believe it or not, an auto insurance policy with an SR-22 filing does not have to cost you an arm and a leg! In fact, we have companies that don't even charge for an SR-22 filing. Some do, some don't; regardless, all of us here at A Better Choice will find you the best rate no matter what you need.
If I have an SR-22 and get pulled over by the police, will they ask me to show them my SR-22?
Absolutely not. The police will not even know that you have an SR-22. You simply have to show them your normal "proof of insurance" documents. The SR-22 filing is between you, your auto insurance agency/company, and the Department of Revenue.
What happens if I have an SR-22 filing and my insurance policy lapses or gets cancelled?
This is what you DO NOT want to do! Many bad situations result from a lapsed auto insurance policy with an SR-22 filing. First, as soon as the state is notified (per the SR-22 procedure) that the policy has been cancelled, they will send a letter. This letter informs you that they are going to suspend your driving privileges if you do not produce an active auto insurance policy with an SR-22 filing within about ten days. If they DO NOT receive your proof of insurance within the ten days, they will suspend your driver's license indefinitely,or until you comply. If they DO receive your proof of an active policy with an SR-22 filing within the allotted time, they won't suspend you. They can decide to add time to your requirement or make your SR-22 period start over completely. Again, the Department of Revenue has ALL the power and authority here. If you are suspended, you will have to fill out and submit the application for reinstatement, pay a $95.00 reinstatement fee, and prove you have an active insurance policy with an SR-22 filing in order for your driver's license to be reinstated.
---
SR-22 Bottom Line Is This...
If you are required to file an SR-22:
Find out how long your requirement is.

Once you've started, complete the time requirement by keeping your policy active.

Upon completion of this process, the SR-22 goes away like it never even happened.
Unfortunately, I have had clients that just can't seem to get it together and have an SR-22 haunting them forever because they cannot keep their auto insurance policy active. Don't be like that. It will cost you more money and create more problems for you. I don't know how much money you have, but I know you don't need more problems!
We at A Better Choice Auto Insurance Agency have been filing SR-22's for clients in Colorado for over twenty years! The SR-22's really aren't all that horrible. Don't get me wrong, if you can avoid an SR-22, I HIGHLY and STRONGLY recommend you do so. I get that sometimes life happens, and if you need an SR-22 for any reason, we are the most qualified experts in the field. We truly care about helping you with this somewhat unique situation. Please give us a call or stop by the office anytime.
---
Well, I hope that wasn't too long and that it was both informative and helpful. Of course, if you have further questions regarding auto insurance or SR-22 filings in Colorado, please call or come by the office. We would love the opportunity to assist you.
Thanks for reading! Be safe out there.
JW
Your Better Choice for an SR-22 in Colorado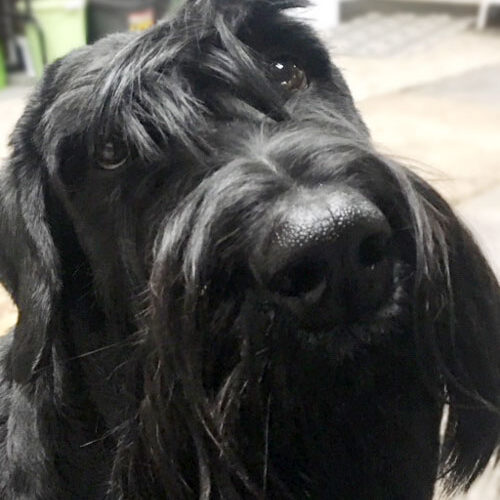 Stop by the Office and meet our Quality Assurance Director - Rizzo!
Ready to Learn More?
Give our office a call today and learn how you can get great auto insurance in Colorado Springs, CO!